What Is Liposuction ?
Liposuction is the process of removal of excess body fat by suction using special surgical equipment. Typically, a plastic surgeon does the surgery.
Liposuction is a type of cosmetic surgery which removes unwanted excess fat to improve body appearance and to smooth irregular body shapes. The procedure is sometimes also called as body contouring. It might be useful for contouring under the chin, neck, cheeks, upper arms, breasts, abdomen, buttocks, hips, thighs, knees, calves, and ankle areas.
Types of liposuction in delhi
Tumescent liposuction (fluid injection)
Super-wet technique
Ultrasound-assisted liposuction (UAL)
Vaser-assisted liposuction (VAL)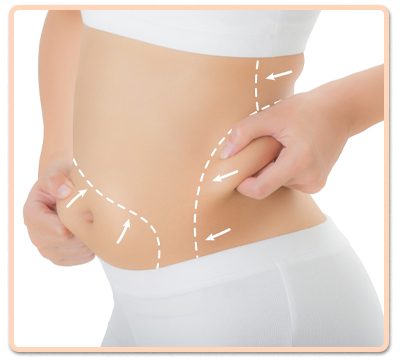 Liposuction in delhi
A liposuction machine and special instruments known as cannulas are used for this surgery. The surgical team prepares the areas of your body which will be treated. Either local or general anesthesia will be given. A suction tube is inserted into the fat pockets and swept through the area where fat is to be removed, through a small skin incision. The fat is vacuumed away through the suction tube. A vacuum pump or a large syringe gives the suction action. Several skin punctures might be needed to treat large areas. The surgeon might approach the areas to be treated from different directions to get the best contour. A compression garment would be placed on you. Wear it as per the instructions by your surgeon.
Liposuction: A Need for Better Lifestyle ?
Cosmetic reasons that includes "love handles," fat bulges, or an abnormal chin line.
Improvement in sexual function by reducing abnormal fat deposits on the inner thighs, thus allowing easier access to the vagina.
Shaping the body for people who are bothered by fatty bulges or irregularities that cannot be removed by diet and/or exercise.
medical conditions to consider before liposuction in delhi:
Certain medical conditions need to be checked and be under control before liposuction, including:
History of cardiac problems (heart attack)
Hypertension
Diabetes
Allergic reactions to medicines
Breathing problems
Allergies due to antibiotics, asthma, surgical prep
Smoking, alcohol, or drug use
Risks associated with best liposuction in delhi include:
When not enough fluid is replaced during the surgery- shock may be experienced
Fluid overload
Infections (streptococcus, staphylococcus)
Bleeding, blood clot
Fat embolism- Tiny globules of fat in the bloodstream that block blood flow to tissue
Nerve, skin, tissue, or organ damage or burns from the heat or instruments used in liposuction in delhi
Bumpy fat removal (asymmetry)
Dents in your skin or contouring problems
Drug reactions or overdose from the lidocaine used in the procedure
Scarring or irregular, asymmetric, or even "baggy," skin, especially in older people