Eyelid Surgery In Delhi
Blepharoplasty, commonly termed as Eyelid surgery involves removing of fat usually along with excess skin and muscle from the upper and lower eyelids. Eye plastic surgery could correct drooping upper lids and puffy bags below your eyes. It can also correct features that make you look older and more tired than you feel and may even interfere with your vision. This procedure does not involve crow's feet or other wrinkles, eliminate dark circles under your eyes, or lift sagging eyebrows. The indications of your ethnic or racial heritage cannot be erased.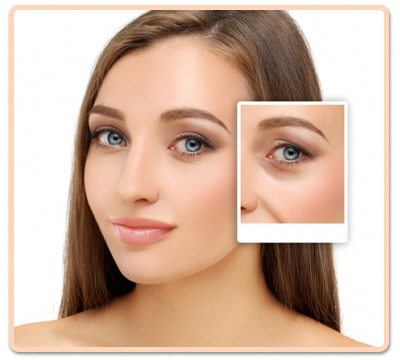 Candidate appropriate for the eyelid surgery in Delhi:
Blepharoplasty will enhance your looks and give you self-confidence.
1. The best candidates for eyelid surgery in Delhi are men and women who are physically healthy, psychologically stable.
2. If droopy, baggy eyelids run in your family, you may decide to have eyelid surgery at a younger age.
3. The medical conditions which need to be managed are thyroid problems such as hypothyroidism and graves' diseases, dry eye or lack of sufficient tears, high blood pressure or other circulatory disorders, cardiovascular disease.
The Eyelid surgery in Delhi:
1. Eye plastic surgery (Eyelid surgery) is generally performed under local anesthesia, which numbs the area around their eyes.
2. You would be awake during the surgery, but relaxed and insensitive to pain.
3. In very few cases general anesthesia is preferred.
Blepharoplasty procedure duration:
It may take one to three hours. The surgeon makes incisions following the natural lines of your eyelids; in the creases of your upper lids, and just below the lashes in your lower lids. The incisions could extend into the crow's feet or laughs line at the outer corners of your eyes.
If you have a pocket of fat beneath your lower eyelids but don't need to have any skin removed, your surgeon might perform a lower lid blepharoplasty. The incision is made inside your lower eyelids, leaving no visible scar in the lower lid blepharoplasty.
Care after the double eyelid surgery in Delhi:
1. You will be instructed to keep your head elevated for several days.
2. Cold compresses can be used to reduce swelling and bruising.
3. This lasts between several weeks to a month.
4. Eye drops are recommended by doctors since your eyelids may feel dry at first and your eyes may burn or itch.
5. For the first few weeks excessive tearing, sensitivity to light can also be experienced.
6. Temporary changes in your eyesight, such as blurring or double vision can be felt.
7. The swelling and discoloration around your eyes will gradually subside, once the stitches are removed.
Risks subsequent the Blepharoplasty:
When an eyelift surgery is performed by a qualified plastic surgeon, complications are usually infrequent and minor. But you should always be prepared for risks and discuss with your surgeon the pros and cons involved.
1. The minor complications after the eye lift surgery may include a double or blurred vision for a few days.
2. Temporary inflammation at the corner of the eyelids.
3. A trivial asymmetry in healing or scarring.
4. Tiny whiteheads might appear after your stitches are taken out, which can be removed easily with a very fine needle.
5. Some patients can have difficulty in closing their eyes when they sleep, after the surgery. In rare cases, this condition may become permanent.