CHEMICAL PEEL Treatment in Delhi
Does your skin feel dull and tired that lackluster or the skin has started showing its first signs of aging? Despite trying so many products for revitalizing your skin nothing seems to work. Maybe, you need a chemical peel procedure for your skin. A chemical peel is a method where a chemical is applied onto the skin, which makes it blister out, eventually welcoming a new and rejuvenated skin beneath. The new skin obtained after a chemical peel is visibly smoother and younger-looking. The method of chemical peel can be used for the face, necks and hands.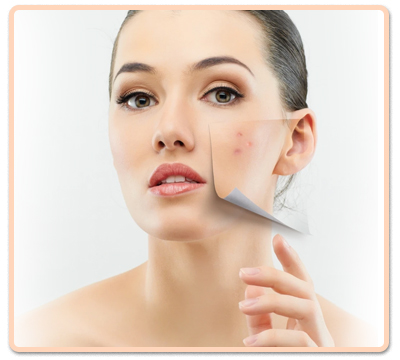 A chemical peel is beneficial for:
Reduction in the fine lines around the mouth and eyes
Reduce the appearance of wrinkles due to sunrays and aging
Improve the appearance of scars and make them milder
In reducing or treating certain types of acne
Reduce freckles, age spots and melasma (dark spots) due to sun rays, pregnancy and other genetic factors.
Improving the texture and overall look of your skin.
Who can get a chemical peel?
Anyone who has a lighter skin tone would be more suitable to get this process but people with darker skin can also obtain good results, depending upon the type of problem being treated.
Things to keep in mind before getting a chemical peel
Prior to getting a chemical peel, your skin doctor may ask you to stop certain medications such and start other medications to prepare your skin like Retin A. the doctor also assesses the condition of your skin and accordingly determines the chemical peel to be used.
The procedure of chemical peel
In this procedure the professional first cleans your skin thoroughly and applies a chemical such as glycolic acid, lactic acid and salicylic acid to the small areas of your face, allowing a controlled wound to appear that eventually is peeled off.
post-care tips
You will have to change the bandages for several days after the procedure on the part where the chemical peel was applied.
You must avoid sun exposure for several months after this procedure as the new skin is quite delicate.
You must follow up with your cosmetologist in case any complication occurs.
Thus, if you too are tired of that saggy and lifeless skin then infuse life in your skin with the best chemical peel method at Viva cosmetic center.